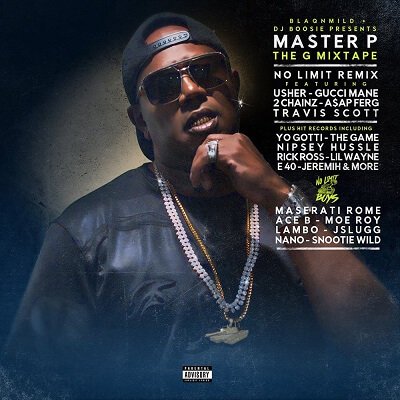 Zum vergrößern des Covers, bitte das Bild anklicken!
Release: Master P - The G Mixtape (2016)
01. Cant Count Us Out
02. No Limit (Remix XL) feat. Usher, 2 Chainz, A$AP Ferg, Gucci Mane & Travi$ Scott
03. Heaven For A G feat. The Game
04. Whole Notha feat. That Nation (Mogul Mix)
05. Made It Out feat. Maserati Rome & No Limit Boys
06. Green
07. Same Day feat. Ace B & Moe Roy
08. All I Want feat. Lil Wayne
09. Like Im 23 feat. Rick Ross
10. Middle Finga
11. Dealer feat. No Limit Boys
12. Fly feat. No Limit Boys
13. Watch'em feat. Moe Roy & Popeye
14. Trunk feat. Yo Gotti & Krazy
15. Real feat. The Game & Nipsey Hussle
16. Fenessen feat. No Limit Boys
17. Too Legit
18. Dirty Game feat. No Limit Boys
19. I Got feat. Travis Kr8ps
20. Believe feat. Moe Roy & Snootie Wild
21. You Need Me An I Need You feat. Cymphonique
22. The One feat. Jeremih & Flight Boy
23. My Business
24. No Stoppin feat. E-40
25. Guess Who's Back feat. Maserati Rome & Play Beezy
Größe
212 MB
Format
mp3
Bild / Ton
320
Sprache
Englisch
Genre
Hip-Hop
Passwort
[Kein Passwort]
Hits
120 Aufrufe
Links
xRel
Hochgeladen von demjan am 23.08.2016
Highspeed-Download
Keine Kommentare
Für den Download sind leider noch keine Kommentare vorhanden. Sei der Erste!