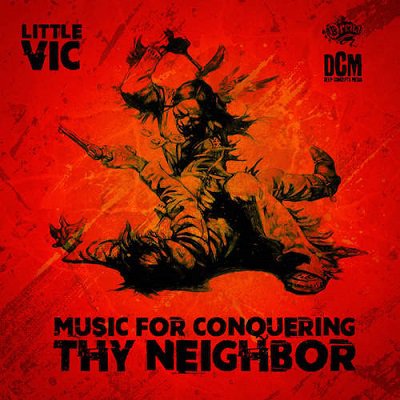 Zum vergrößern des Covers, bitte das Bild anklicken!
Release: Little Vic - Music For Conquering Thy Neighbor (2016)
01. Same World (feat. Cormega, PMD & Pretty Ugly)
02. Blood Stream (feat. Nature, Sean Strange & ODoub)
03. I Want It (feat. Critical & Roc Marciano)
04. Story to Tell (Little Vic Remix) (feat. Chaundon)
05. Breathe (feat. Temanology & LEGACY)
06. Watcha Say (feat. Critical)
07. Get It On (feat. The Day Laborers)
08. It's Mine (feat. Emilio Rojas, Skyzoo, Kenn Star, Muneshine & D-Sisive)
09. Open Your Eyes (feat. Nature)
10. Bad Lieutenants (feat. Madness & Critical)
11. No Strings Attached (feat. CP, Eddie Brock & Zeal)
12. All Right (Dj Connect Remix) (feat. Critical)
13. Today's My Day (feat. Reef The Lost Cauze)
14. The Munchies (feat. Treach & Mann95)
15. Nostalgia (feat. Hidden Agenda)
16. Meal Ticket, Pt. 2 (feat. Critical & Madness)
17. That the Way It Goes (feat. Critical & IDE)
18. America (feat. TYP-ILL)
19. I See (feat. D-Sisive, 9th Uno & Muneshine)
20. Deadly Remedy (feat. Bloodline)
Größe
165 MB
Format
mp3
Bild / Ton
320
Sprache
Englisch
Genre
Hip-Hop
Passwort
[Kein Passwort]
Hits
118 Aufrufe
Links
xRel
Hochgeladen von demjan am 24.08.2016
Highspeed-Download
Keine Kommentare
Für den Download sind leider noch keine Kommentare vorhanden. Sei der Erste!