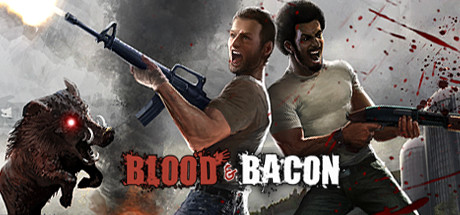 Zum vergrößern des Covers, bitte das Bild anklicken!
Release: Blood.and.Bacon.incl.v2.1.1.8.RIP-Unleashed
Alles, was Sie brauchen, ist Blut und Speck [/ h2] [/ h2] Blut und Speck ist ein Multiplayer CO-OP "Überleben Shooter fps", die schwer bewaffneten Spieler gegen Untote Maschinen und Geräte Gruben, wie Sie versuchen, Ihren Weg durch mehr als 100 Levels des Wahnsinns und Zucken gristle zu schlachten. Tag und Nacht Ebenen, werden die Spieler nehmen auf 35 Gegnertypen und zahlreiche Chefs, wie das gigantische Monster liebevoll genannt, 'Princess Blubbergut' und Minibosses alle 10 Tage, wie Sie erkunden, schießen und für Ihr Leben gegen den Ansturm der Schweine Ungeheuerlichkeiten laufen. Das Spiel verzichtet kreativ Pickups durch einen Fleischwolf , von den Kreaturen, die du töten. Munitionskisten , Adrenalin, Granaten, Raketen und andere exotische Booster. Mit über 15 Stunden Gameplay und die Möglichkeit, eine Staffelung (oder shambling) zu kämpfen 500+ untote Kreaturen auf einmal, "Blood and Bacon" sieht mehr Scheunenhof Aufregung zu bieten, als man auf abgeschlagenen Femur Old MacDonalds schütteln kann !!
NFO zu Blood.and.Bacon.incl.v2.1.1.8.RIP-Unleashed
ÜÜÜÜÜÜÜÜÜÜÜÜÜÜÜÜÜÜÜÜÜÜÜÜÜÜÜÜÜÜÜÜÜÜÜÜÜÜÜÜÜÜÜÜÜÜÜÜÜÜÜÜÜÜÜÜÜÜÜÜÜÜÜÜÜÜÜÜÜÜÜÜÜÜÜÜÜÜ
ÛßßßßßßßßßßßßßßßßßßßßßßßßßßßßßßßßßßßßßßßßßßßßßßßßßßßßßßßßßßßßßßßßßßßßßßßßßßßÛÛÜ
Û ÛÛÛ  ÛÛÛ ÛÛÛßßÛÛÛ ÛÛÛ    ÛÛÛßßßß ßßßßßÛÛÛ ÛÛÛßßßßßßßß  ÛÛÛ ÛÛÛßßßßßßßßßßß  ßÛ
Û ÛÛÛ  ÛÛÛ ÛÛÛ  ÛÛÛ ÛÛÛ    ÛÛÛ     ÛÛÛ  ÛÛÛ ÛÛÛ ßßßßÛÛÛ  ÛÛÛ ÛÛÛ     ÛÛÛßßÛÛÜ Û
Û ÛÛÛ  ÛÛÛ ÛÛÛ  ÛÛÛ ÛÛÛ    ÛÛÛ     ÛÛÛ  ÛÛÛ ÛÛÛ     ÛÛÛ  ÛÛÛ ÛÛÛ     ÛÛÛ  ÛÛÛ Û
Û ÛÛÛ  ÛÛÛ ÛÛÛ  ÛÛÛ ÛÛÛ    ÛÛÛ     ÛÛÛ  ÛÛÛ ÛÛÛ     ÛÛÛ  ÛÛÛ ÛÛÛ     ÛÛÛ  ÛÛÛ Û
Û ÛÛÛ  ÛÛÛ ÛÛÛ  ÛÛÛ ÛÛÛ    ÛÛÛ     ÛÛÛ  ÛÛÛ ÛÛÛ     ÛÛÛ  ÛÛÛ ÛÛÛ     ÛÛÛ  ÛÛÛ Û
Û ÛÛÛ  ÛÛÛ ÛÛÛ  ÛÛÛ ÛÛÛ    ÛÛÛßßß  ÛÛÛßßÛÛÛ ßßßßÛÛÛ ÛÛÛßßÛÛÛ ÛÛÛßßß  ÛÛÛ  ÛÛÛ Û
Û ÛÛÛ  ÛÛÛ ÛÛÛ  ÛÛÛ ÛÛÛ    ÛÛÛ     ÛÛÛ  ÛÛÛ     ÛÛÛ ÛÛÛ  ÛÛÛ ÛÛÛ     ÛÛÛ  ÛÛÛ Û
Û ÛÛÛ  ÛÛÛ ÛÛÛ  ÛÛÛ ÛÛÛ    ÛÛÛ     ÛÛÛ  ÛÛÛ     ÛÛÛ ÛÛÛ  ÛÛÛ ÛÛÛ     ÛÛÛ  ÛÛÛ Û
Û ÛÛÛ  ÛÛÛ ÛÛÛ  ÛÛÛ ÛÛÛ    ÛÛÛ     ÛÛÛ  ÛÛÛ     ÛÛÛ ÛÛÛ  ÛÛÛ ÛÛÛ     ÛÛÛ  ÛÛÛ Û
Û ßßßßßßßß ÛÛÛ  ÛÛÛ ßßßßßß ÛÛÛ     ÛÛÛ  ßßßßßßß ÛÛÛ ÛÛÛ  ÛÛÛ ßßßßßßß ÛÛÛ  ÛÛÛ Û
ÛÜ ßßßßßßßßßßß  ßßßßßßßßßß ßßßßßßß ßßß  ßßßßßßßßßßß ßßß  ßßßßßßßßßßß ßßßßßßß ÜÛ
ßÛÜÜÜÜÜÜÜÜÜÜÜÜÜÜÜÜÜÜÜÜÜÜÜÜÜÜÜÜÜÜÜÜÜÜÜÜÜÜÜÜÜÜÜÜÜÜÜÜÜÜÜÜÜÜÜÜÜÜÜÜÜÜÜÜÜÜÜÜÜÜÜÜÜÜÛÛß
 ßßßßßßßßßßßßßßßßßßßßßßßßßßßßßßßßßßßßßßßßßßßßßßßßßßßßßßßßßßßßßßßßßßßßßßßßßßßß
               P R E P A R E  T O  B E  U N L E A S H E D ! ! 


                       Blood and Bacon incl v2.1.1.8 RIP                    
 ÄÄÄÄÄÄÄÄÄÄÄÄÄÄÄÄÄÄÄÄÄÄÄÄÄÄÄÄÄÄÄÄÄÄÄÄÄÄÄÄÄÄÄÄÄÄÄÄÄÄÄÄÄÄÄÄÄÄÄÄÄÄÄÄÄÄÄÄÄÄÄÄÄÄÄ
   Release Date  :  24/08/2016                Protection  :  Steam
   Release Type  :  RIP 26x5.00MB             Company     :  Grunge Games LTD	
 ÄÄÄÄÄÄÄÄÄÄÄÄÄÄÄÄÄÄÄÄÄÄÄÄÄÄÄÄÄÄÄÄÄÄÄÄÄÄÄÄÄÄÄÄÄÄÄÄÄÄÄÄÄÄÄÄÄÄÄÄÄÄÄÄÄÄÄÄÄÄÄÄÄÄÄ
   Release Notes:

   Blood And Bacon is a Multiplayer(4P) CO-OP "survival shooter fps" that   
   pits heavily armed players against undead deadstock as you attempt to    
   butcher your way through 100+ levels of insanity and twitching           
   gristle. Day and night levels, players will take on 35 enemy types and   
   numerous bosses, like the gargantuan monster affectionately named,       
   'Princess Blubbergut' and Minibosses every 10 days as you explore,       
   shoot and run for your life against the onslaught of porcine             
   monstrosities. The game creatively dispenses pickups through a meat      
   grinder, from the very creatures you are killing. Ammo boxes,            
   Adrenaline, Grenades, Rockets, and other exotic boosters. Boasting       
   over 15+ hours of gameplay and the ability to battle a staggering (or    
   shambling) 500+ undead creatures at once, "Blood and Bacon" looks to     
   feature more barnyard excitement than you can shake Old MacDonald's      
   severed femur at !!                                                      
                                                                            
                                                                            
   RIPPED: Nothing                                                          
 ÄÄÄÄÄÄÄÄÄÄÄÄÄÄÄÄÄÄÄÄÄÄÄÄÄÄÄÄÄÄÄÄÄÄÄÄÄÄÄÄÄÄÄÄÄÄÄÄÄÄÄÄÄÄÄÄÄÄÄÄÄÄÄÄÄÄÄÄÄÄÄÄÄÄÄ
   Install Notes:
         
   1. Unpack the release with WinRAR or equivalent                          
   2. Install by running unl-bb02.exe                                       
   3. Start game with BloodandBacon.exe                                     
   4. Enjoy!                                                                
                                                                            
   Remember to support quality games!                                       
                                                                            
 ÄÄÄÄÄÄÄÄÄÄÄÄÄÄÄÄÄÄÄÄÄÄÄÄÄÄÄÄÄÄÄÄÄÄÄÄÄÄÄÄÄÄÄÄÄÄÄÄÄÄÄÄÄÄÄÄÄÄÄÄÄÄÄÄÄÄÄÄÄÄÄÄÄÄÄ

     Unleashed salutes all friends of the family, contacts and competition! 

 ÄÄÄÄÄÄÄÄÄÄÄÄÄÄÄÄÄÄÄÄÄÄÄÄÄÄÄÄÄÄÄÄÄÄÄÄÄÄÄÄÄÄÄÄÄÄÄÄÄÄÄÄÄÄÄÄÄÄÄÄÄÄÄÄÄÄÄÄÄÄÄÄÄÄÄ
                            " Prepare to be Unleashed! "    

Größe
123 MB
Format
Keine Angabe
Bild / Ton
Sprache
Englisch
Genre
Sonstige Spiele
Passwort
[Kein Passwort]
Hits
31 Aufrufe
Links
xRel
Hochgeladen von Checcker am 26.08.2016
Highspeed-Download
Keine Kommentare
Für den Download sind leider noch keine Kommentare vorhanden. Sei der Erste!