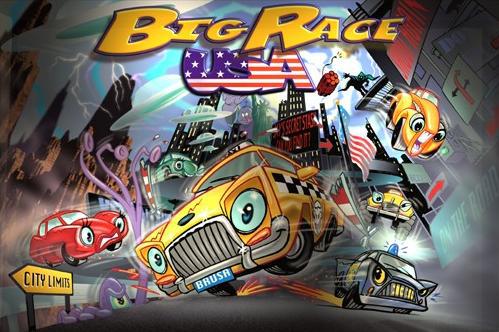 Zum vergrößern des Covers, bitte das Bild anklicken!
Release: Pro.Pinball.Big.Race.USA-GOG
Set your senses reeling as you're whisked on the wildest pinball ride of your life, in a whirlwind frenzy of colour, sound and adrenaline-pumping action. Take a white knuckle ride across the USA for your chance to complete on the 'big race' and win hoards of cash - but watch out for that police car on your tail. Try real time hand-to hand mode for exciting two player action via LAN or the Internet. Meet innovate opponents - Monster Truck, Hot Rod, Sports Car, Mini Beetle and the ever-present Police Car. Have fun with the frenzy feature - ten balls in play at once! Balls, that really slide and spin! Enjoy the fun road trip across America, featuring 16 major cities as play zones. A challenging and well-designed table with lots of score-boosting quests Fun and addictive gameplay for both the casual gamer and the pinball professional Highly detailed pre-rendered graphics and realistic physics
Größe
325 MB
Format
Keine Angabe
Bild / Ton
Sprache
Englisch
Genre
Simulation
Passwort
[Kein Passwort]
Hits
90 Aufrufe
Links
xRel
Hochgeladen von Checcker am 28.08.2016
Highspeed-Download
Keine Kommentare
Für den Download sind leider noch keine Kommentare vorhanden. Sei der Erste!