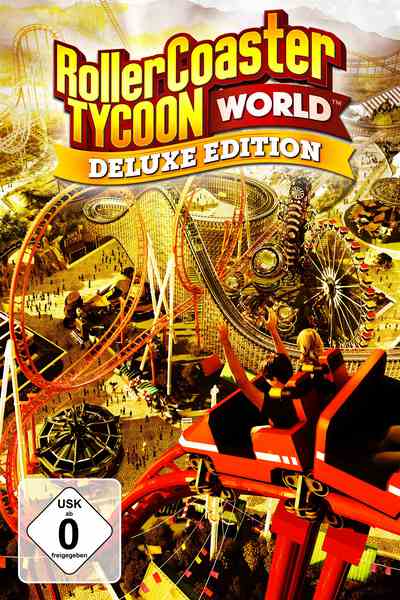 Zum vergrößern des Covers, bitte das Bild anklicken!
Release: RollerCoaster.Tycoon.World.Deluxe.Edition.v49291.Cracked-3DM
Rollercoster Tycoon: World erscheint Anfang 2015 und wird von Pipeworks Software entwickelt. Das Studio trat zuvor unter anderem durch Zumba Fitness in Erscheinung. Besonderer Wert soll dieses Mal auf den Mehrspieler-Part des Titels gelegt werden - so ist etwa ein Koop-Modus geplant. Mikrotransaktionen soll es nicht geben. Weitere Details sind noch nicht bekannt.
NFO zu RollerCoaster.Tycoon.World.Deluxe.Edition.v49291.Cracked-3DM
"RollerCoaster Tycoon: World (RollerCoaster Tycoon World)" [CN / EN]

[network] 3DMGAME & CETV online forum
http:// *** link remov
http:// *** link remov

All kinds of games, tools and articles   site provides only be research study on the use of   site
All the consequences   these games (tools) caused, does not assume any liability

[network] http:// *** link remov    3DMGAME

Game Name: RollerCoaster Tycoon: World
English name: RollerCoaster Tycoon World
Genre: business simulation (SIM) Games
Game production: Nvizzio Creations
Game Release: Atari / RCTO Productions
Games Platform: PC
Release date: March 30, 2016
Official website: http: //http:// *** link removed *** / com/

game introduction

RollerCoaster Tycoon World   is the traditional RCT "Rollercoaster Tycoon" franchise series of games
the latest version. This new generation of theme park simulation game in addition to construction,
including its fans favorite function, also introduced a lot of new stuff, such as three-dimensional
panorama dazzling people rollercoaster experience, exciting fun attractions plane, active tourists,
user-defined content, powerful social features and more - all in this large entertainment game
itself!

Powerful construction tools:
Freestyle object placement: You can use any angle control and put the game in any single object to
the map anywhere. Like many simple and easy for users, we also provide 'insertion aid' and 'pen'
placement features that make this enhancement easier to use.
Curvilinear path: from a variety of widths, styles and shapes to choose your unique path type. You
can make them in a straight line, or let them in this first series of games in franchise bent at any
angle!

Innovative 3D track editor: our best-ever track editor to create the wildest dreams of the coolest
roller coaster! We first used the spline-based editor, full three-dimensional manipulation of the
track, so you can create your dream of any shape.

With water, fully deformable landscape: build unbelievably amusement attractions, with landscape and
water features fully deformable to full three-dimensional way to change your park landscape.

Game object expansion options: a number of different types of roller coaster rides and attractions
to entertain visitors to your park, all the facilities are in a new generation of amazing clarity of
presentation. The selection ranges from pre-coaster rides and other attractions to landscape and
shops.

Scalable custom support:
UGC tool: This is the first time, you will be able to have your own or tourists PEEP scene to create
items that any support Unity's 3D editor, which works to import game for everyone to use!

A variety of maps and topics: choose from different environments and theme options, generating a unique map.

A new generation of full implementation of the simulation:
Fine park management tools: Lets you easy access to all the park beautiful user interface management
tools, can help you successfully manage the theme park. Visitors to the park from financial ideas,
as well as a variety of new features (such as: heat maps, tips, etc.), everything is under your
fingertips!

A variety of game modes: Sandbox mode is available to play the way you love, or complete various
tasks and challenges in the scene and sports mode.

Visitors to conform +: to create a theme park in your area! Set a different theme rides attractions
and things will not only affect the ratings, but also enhance the attractiveness of their specific
PEEP to dynamically change the game state.

Advanced physics calculation: RCTW physical roller coaster simulation game is more complex than in
the past in this series. This simulation allows the design and amazing realistic ride experience.
Build a perfect fit track roller coaster or allowed teetering on the edge of disaster; we must be
careful, otherwise you may derail roller coaster!

Each roller coaster ride: jumped into the front seat of a roller coaster ride and build your own roller coaster!

Innovative services: the redesigned, simple but powerful service system to manage health care, clean, entertainment, and mechanical requirements of your park.

Native sharing and social features:
Social Media Integration: Share your creation and all the cool designs directly from within the game with your friends now!

Freestyle camera: shoot a video at any angle; editing your park from the upper and lower side or
attractions. Perspective angle like it? We also have this!

Buddy lists and statistical comparisons: view your Steam friends are games and social status from
your game! It is easy to see if someone newest roller coaster or when they recently edited its park.

Visit Friends: View friends you can not click on the park! Talk to them, and based on your
experience there to give them advice.

Native Steam Technical Support: Games Inline "Native Steam Support"! The interface has been
simplified and centralized, so whether expert or novice are easy to use. Custom scene, the blueprint
of the roller coaster, parks, etc. can be easily and seamlessly share in the game. UGC are easy to
use for any user.

Configuration Requirements

Minimum:

Operating System: Windows 7 (64-bit)
Processor: 2.3 Ghz Core i5 or equivalent AMD
Memory: 6 GB RAM
Graphics:: with at least 1GB dedicated video memory graphics card
DirectX version: 11
Storage space: 10 GB of available space
Note matters: or there is a change

Installation Information
1. Unzip
2. Run the Game

Prerequisites _CommonRedist game folder please install
Größe
3997 MB
Format
Keine Angabe
Bild / Ton
Sprache änderbar siehe ALI213.ini, 3DMGAME.ini oder CONFIG.ini
Sprache
Englisch
Genre
Sonstige Spiele
Passwort
[Kein Passwort]
Hits
82 Aufrufe
Links
xRel
Hochgeladen von Checcker am 11.09.2016
Highspeed-Download
Keine Kommentare
Für den Download sind leider noch keine Kommentare vorhanden. Sei der Erste!