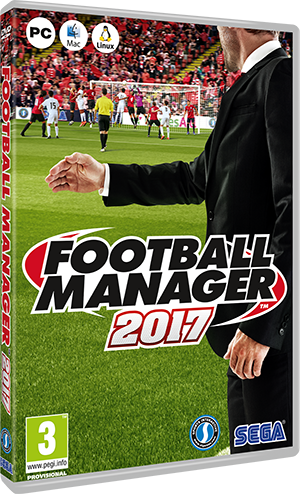 Zum vergrößern des Covers, bitte das Bild anklicken!
Release: Football.Manager.2017-ALI213
Football Manager 2017 ist der 13. Titel der seit 2004 erscheinenden Manager-Serie. Der Fußballmanager bietet über 2.500 lizenzierte Vereine und 500.000 bekannte Spieler und Vereinsmitarbeiter. Wie im Genre üblich erstrecken sich die Aufgaben des Spielers über alles außerdem des Platzes: Von der Taktik und Aufstellung, Trainerverantwortung, bis hin zum Management, Transfer und Pressearbeit. Wer sich allein auf den tatsächlichen Managerpart konzentrieren und den Titel eher wie eine Fantasy-League spielen möchte, kann zur schlankeren und auch günstigeren Variante Football Manager Touch 2017 greifen. Wie für die Serie üblich wird auch der Football Manager 2017 nicht in Deutschland vertrieben, da EA für die FIFA-Reihe Exklusivrechte besitzt. Allerdings funktioniert das Spiel problemlos nach der Aktivierung einer importierten Version oder eines Keys von einschlägigen Drittanbietern.
NFO zu Football.Manager.2017-ALI213
Game Details

Title: Football Manager 2017
Genre: Simulation, Sports
Developer: Sports Interactive
Publisher: SEGA
Release Date: 4 Nov, 2016
Steam: http:// *** link removed *** /       730/
Release Name: Football Manager 2017 v17.1.1-FULL UNLOCKED
Game Version: Update 17.1.1
Game Releaser: 3DM
Size: 3.5 GB

About This Game

Take control of your favourite football team in Football Manager 2017, the most realistic and
immersive football management game to date. It s the closest thing to doing the job for real!

With over 2,500 real clubs to manage and over 500,000 real footballers and staff to sign, Football
Manager 2017 elevates you into a living, breathing world of football management with you at the
centre.

You ll have full control of transfers and decide who plays, and who sits on the bench. You re in
complete control of tactics, team-talks and pitch-side instructions, and you ll follow the match
live with our acclaimed 3D match engine. You ll also deal with real football media, solve
player-happiness problems and the board will watch your every move.

Fans who pre-purchase Football Manager 2017 on Steam will be rewarded with Football Manager Touch
2017 for free (on PC, Mac or Linux) and, as a thank you for pre-purchasing, you ll also get a range
of free downloadable content for Touch including  Board override ,  No firing ,  All job
applications ,  National management  and 3 brand new challenges to play in the  Challenge  game
mode. Touch is the more streamlined,  transfers and tactics  way to manage and can be purchased
separately as a standalone game.

System Requirements

Minimum:

Windows Vista (SP2), 7 (SP1), 8, 8.1, 10 (1607)   64-bit or 32-bit
PROCESSOR:
Intel Pentium 4, Intel Core or AMD Athlon   2.2 GHz +
MEMORY:
2 GB RAM
GRAPHICS:
Intel GMA X3100, NVIDIA GeForce 8600M GT or AMD/ATI Mobility Radeon HD 2400   256MB VRAM
DIRECTX:
Version 9.0c
STORAGE:
3 GB available space

1. Extract
2. copy to the Steam installation directory (Steam \ steamapps \ the Common \)
3. To log on steam account verification document
4. Start Game (For Genuine Users Only)
Größe
3549 MB
Format
Keine Angabe
Bild / Ton
Sprache
Englisch
Genre
Sport
Passwort
[Kein Passwort]
Hits
153 Aufrufe
Links
xRel
Hochgeladen von Checcker am 09.11.2016
Highspeed-Download
Keine Kommentare
Für den Download sind leider noch keine Kommentare vorhanden. Sei der Erste!