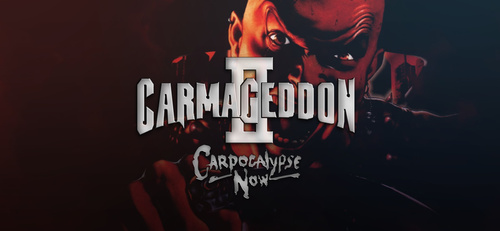 Zum vergrößern des Covers, bitte das Bild anklicken!
Release: Carmageddon.2.Carpocalypse.Now.v2.1.0.28-GOG
Carmageddon 2: Carpocalypse Now is the sequel to the sensational "Game of the Year" smash and trash blockbuster from 1997. The creators of the original Carmageddon come back with more action, fun, and mayhem, Play chicken with an airplane. Fry pedestrians with the Electro Bastard Ray. Shop till you drop while on the move, no more waiting until the next race to add that special touch to your personal assaultmobile. All of the fun and none of the responsibility of motorized murder and mayhem in one huge package. What are you waiting for? Gear up and ride out! ? 30 grueling tracks, 10 manic mission levels, and 10 stunning new environments. ? Waste trains, planes, and slaughtermobiles. ? Reckless driving gains points - annihilate anything and everything in your path. ? Heavy metal soundtrack from Iron Maiden and Sentience will accompany you on this hellish ride. Includes: • Avatar • Manual • 2 Wallpapers
NFO zu Carmageddon.2.Carpocalypse.Now.v2.1.0.28-GOG
Genre: Action - Combat - Rally
Works on: Windows (XP, Vista, 7, 8, 10)
Languages: Audio and text: English
Modes: single-player - multiplayer
Released: November 30, 1998
Size: 157.8 MB
Company: Stainless Software / Stainless Games
Installer version: v2.1.0.28
Goodies: Manual + 2 Wallpapers + Avatar

Minimum system requirements - Windows: Windows XP / Vista / 7 / 8 / 10
1.8 GHz Processor
512MB RAM (1 GB recommended)
3D graphics card compatible with DirectX 7 (compatible with DirectX 9 recommended)
1 GB HDD
Mouse
Keyboard

GoG: http:// *** link removed *** /                    _now
Größe
159 MB
Format
Keine Angabe
Bild / Ton
Sprache
Englisch
Genre
Sonstige Spiele
Passwort
[Kein Passwort]
Hits
67 Aufrufe
Links
xRel
Hochgeladen von Checcker am 17.11.2016
Highspeed-Download
Keine Kommentare
Für den Download sind leider noch keine Kommentare vorhanden. Sei der Erste!