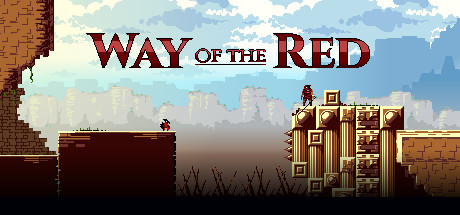 Zum vergrößern des Covers, bitte das Bild anklicken!
Release: Way.of.the.Red.v2.0.0.2-GOG
Way of the Red is a 2d action platformer with a focus on fun, satisfying combat. Splatter blood across the land through four massive zones, each with their own unique environments, characters, and secrets. Use satisfying and versatile sword techniques to shred enemies to pieces. Mutate your character with the mysterious red seeds, and learn new abilities from hidden characters.
NFO zu Way.of.the.Red.v2.0.0.2-GOG
Genre: Action - Combat - Platformer
Works on: Windows (Vista, 7, 8, 10)
Languages: Text only: English
Features: single-player - controller support
Released: November 15, 2016
Size: 121.5 MB
Company: Corey Hardman / Corey Hardman
Installer version: v2.0.0.2
Goodies: Soundtrack (MP3)

Minimum system requirements - Windows: Vista / 7 / 8 / 10
Processor: 1.5 GHz
Memory: 2 GB RAM
Graphics: 512 MB Video Memory, DX9 Compatible
DirectX: Version 9.0
Mouse, Keyboard

GoG: http:// *** link removed *** /    _red
Größe
151 MB
Format
Keine Angabe
Bild / Ton
Sprache
Englisch
Genre
Sonstige Spiele
Passwort
[Kein Passwort]
Hits
58 Aufrufe
Links
xRel
Hochgeladen von Checcker am 18.11.2016
Highspeed-Download
Keine Kommentare
Für den Download sind leider noch keine Kommentare vorhanden. Sei der Erste!