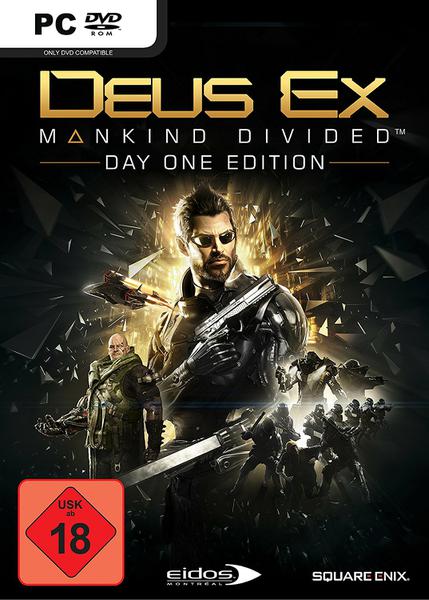 Zum vergrößern des Covers, bitte das Bild anklicken!
Release: Deus.Ex.Mankind.Divided-CPY
Das Action-Rollenspiel Deus Ex: Mankind Divided spielt im Jahr 2029 - also 24 Monate nach den Ereignissen des Vorgängers Deus Ex: Human Revolution. Erneut geht es um Adam Jensen, der mittlerweile für eine von Interpol finanzierte Task-Force-Einheit arbeitet, die Terroristen jagt. Allerdings kommt er einer globalen Konspiration auf die Spur. Außerdem hat sich die Öffentlichkeit gegen Augmentierungen gewendet und macht diese zu Gesetzesverstößen. Jensen kann dennoch auf neue Augmentierungen zurückgreifen, die ihm sowohl beim Kampf als auch beim Schleichen helfen. Dabei werden solche kybernetisch aufgebesserten Menschen bereits als Aussätzige behandelt, die vom Rest der Gesellschaft fern bleiben sollen. Jensen muss sich sehr genau überlegen, wem er vertrauen kann.
NFO zu Deus.Ex.Mankind.Divided-CPY
R E L E A S E D   F O R   Y O U

RELEASE NAME          Deus.Ex.Mankind.Divided-CPY
RELEASE DATE          23/11/2016
SHOP RELEASE DATE       23/08/2016
RELEASE TYPE          Game
KIND                RPG
FORMAT              ISO
PROTECTION            Steam + Denuvo x64
FILES N              100x500MB

The year is 2029, and mechanically augmented humans have now
been deemed outcasts, living a life of complete and total
segregation from the rest of society.
Now an experienced covert operative, Adam Jensen is forced to
operate in a world that has grown to despise his kind. Armed
with a new arsenal of state-of-the-art weapons and
augmentations, he must choose the right approach, along with who
to trust, in order to unravel a vast worldwide conspiracy.

Instructions:

- Burn or mount the image
- Install the game
- Copy the crack
- Enjoy

"Always Outnumbered, Never Outgunned"

- All languages and DLCs are included
- The version is updated to the hotfix released on November 11th
so no official support for DX12 in SLI

Sum 41 ladies & gentlemen!

"So am I still waiting
for you to proper this one too
can't find a good reason
can't find how to do it, huh"

Just love 'em

Established in 1999, we are possibly the oldest Italian-based
release group still in activity.  We express a big THANK YOU to
all those friends who helped us in various forms throughout thes
years!  Don't forget to support the companies and to keep the
Scene about FUN.

Fondato nel 1999, CPY e' probabilmente il piu' vecchio gruppo
release in Italia ancora in attivita'.  Ringraziamo DI CUORE tutti
gli amici che ci hanno aiutati in ogni maniera in questi anni!
Ricordate di supportare le compagnie cinematografiche e di
software, e che la Scena dev'essere basata sul DIVERTIMENTO.

Greets to CODEX, ENCRyPTED - iAT & all our friends.

Ascii   gK
Größe
78839 MB
Format
Keine Angabe
Bild / Ton
Sprache
Multi
Genre
Rollenspiele/Adventures
Passwort
[Kein Passwort]
Hits
167 Aufrufe
Links
xRel
Hochgeladen von Checcker am 23.11.2016
Highspeed-Download
Weitere Downloads zu Deus.Ex.Mankind.Divided-CPY
Keine Kommentare
Für den Download sind leider noch keine Kommentare vorhanden. Sei der Erste!