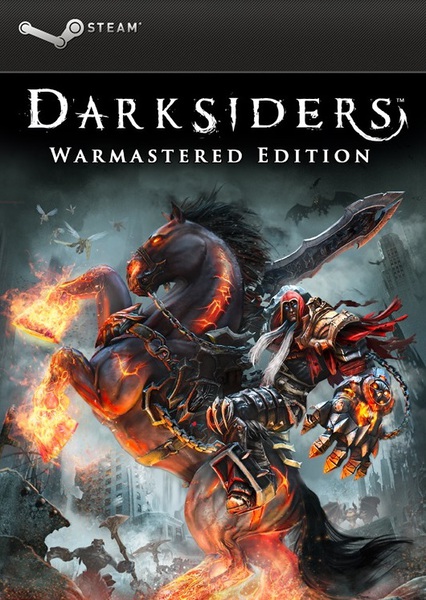 Zum vergrößern des Covers, bitte das Bild anklicken!
Release: Darksiders.Warmastered.Edition-GOG
Krieg – der erste Reiter der Apokalypse wurde von den Mächten des Bösen betrogen. Nun wird ihm vorgeworfen, das Ende der Welt vorzeitig ausgelöst zu haben, indem er das heilige Gesetz von Himmel und Hölle gebrochen hat. In der darauf folgenden Schlacht haben die dämonischen Mächte das Himmelsheer besiegt und den Anspruch auf die Erde für sich erhoben. Krieg wird vor den feurigen Rat gestellt, für sein Verbrechen verurteilt und seiner Kräfte beraubt. Entehrt und seinen eigenen Tod vor Augen, bekommt Krieg die Gelegenheit, zur Erde zurückzukehren, nach der Wahrheit zu suchen und die Verantwortlichen für dieses Chaos zu bestrafen. Er wird von rachsüchtigen Engeln verfolgt, muss sich den Streitkräften der Hölle stellen und beunruhigende Bündnisse mit genau jenen Dämonen schließen, die er jagt. Bei seiner Reise durch die zerfallenen Überreste der Erde sucht er nach Rache und Gerechtigkeit.
NFO zu Darksiders.Warmastered.Edition-GOG
Genre: Action - Role-playing - Fantasy
Works on: Windows (7, 8, 10)
Languages: English
Features: single-player - controller support
Released: November 29, 2016
Company: KAIKO, Vigil Games / THQ Nordic GmbH

Deceived by the forces of evil into prematurely bringing about the end of the
world, War   the first Horseman of the Apocalypse   stands accused of breaking
the sacred law by inciting a war between Heaven and Hell. In the slaughter that
ensued, the demonic forces defeated the heavenly hosts and laid claim to the
Earth.

Brought before the sacred Charred Council, War is indicted for his crimes and
stripped of his powers. Dishonored and facing his own death, War is given the
opportunity to return to Earth to search for the truth and punish those
responsible.

Hunted by a vengeful group of Angels, War must take on the forces of Hell,
forge uneasy alliances with the very demons he hunts, and journey across the
ravaged remains of the Earth on his quest for vengeance and vindication.

Darksiders Warmastered Edition Features:

- Support for up to 4k video output resolution
- Doubled all the texture resolutions
- Re-rendered all cutscenes in high quality
- Rendering improvements and rework
- Better shadow rendering quality
- Post processing effects
- Optimized framerate
- Wide Variety of Graphic Options (FOV, Postprocessing effects, Anti-Aliasing,
Texture Filtering, Windowed/Fullscreen, etc.)

Minimum system requirements:

Windows: 7 or later (64-bit)
Processor: Intel or AMD Dual Core CPU
Memory: 4 GB RAM
Graphics: DirectX 10 Feature Level AMD or NVIDIA Card with 1 GB VRAM
DirectX: Version 11
Storage: 36 GB available space

INSTALL NOTES:
-Unrar
-Install
-Play!

Included goodies: manual + soundtrack (MP3) + comic
Größe
22454 MB
Format
Keine Angabe
Bild / Ton
Sprache
Englisch
Genre
Sonstige Spiele
Passwort
[Kein Passwort]
Hits
58 Aufrufe
Links
xRel
Hochgeladen von Checcker am 30.11.2016
Highspeed-Download
Keine Kommentare
Für den Download sind leider noch keine Kommentare vorhanden. Sei der Erste!